See on Scoop.it – Multimedia News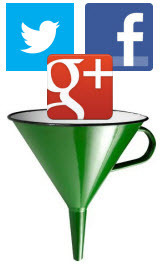 "How does social media activity impact SEO? That's a common question these days as publishers try to make the most of search and social for audience development.
While the role of social media signals in Google and Bing's ranking algorithms is still evolving there are already a number of ways that social media is having a clear influence.
Here are five ways that social media impacts SEO, or more specifically search engine visibility, rankings and traffic:
1. Annotations in the Search Results
Both Google and Bing use social data to annotate select listings on their search engine results pages.
2. Personalized Rankings
In addition to annotations the engines also personalize the order of their search results based on a number of factors including social connections and activity.
3. Secondary Links
When it comes to ranking factors links are still much more important than social shares. A link from a quality, trusted site has considerably greater weight than a like, tweet or +1.
Read More: http://www.adamsherk.com/seo/how-social-media-impacts-seo/
See on www.adamsherk.com